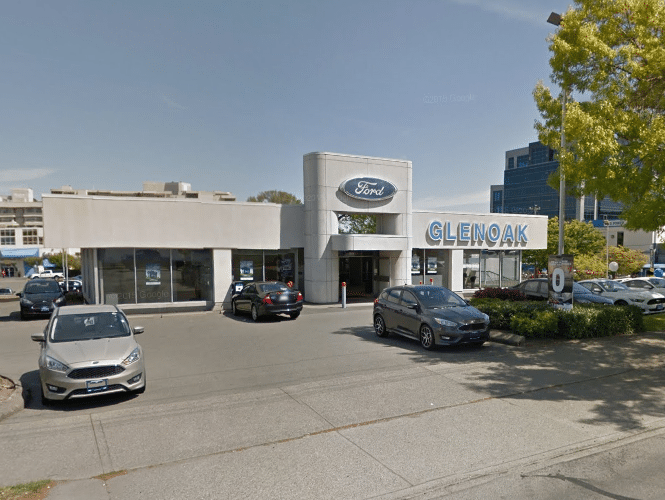 Glenoak Ford Downtown - Contact Us!
About Glenoak Ford
Welcome to Glenoak Ford! With two locations in the Victoria area, it's always convenient to stop by and browse our impressive selection of Ford vehicles. We proudly serve the city of Victoria and its surrounding communities.
If you know what you're shopping for, get in touch with our sales department and they will make the process as quick and enjoyable as possible. If not, our team of experts is here to help! From fuel-efficient commuters and compact SUV's, to the ever-popular F-150, we truly offer something for every customer. Did we mention we're Victoria's only licensed Ford Performance Dealer? That means Glenoak Ford is your premier destination for scorching hot products like the Ford Raptor and Shelby Mustang.
The Glenoak experience doesn't stop once you've left the dealership either. We know the importance of keeping your new vehicle in tip-top shape. From scheduled maintenance to performance work, our expert technicians specialize in keeping your driving experience stress free – ensuring your new Ford keeps you and your family on the road for years to come.
Unsure of your credit situation? No problem! Our Financial Team offers a variety of finance and leasing options. Even if you're just starting to build credit history, are unemployed, declared bankruptcy or recently moved to the country, you can still own a car! Here at Glenoak Ford, we pride ourselves on finding the right payment terms for every customer. Get approved today!
Meet Our Staff
Stop by Glenoak Downtown or Glenoak Westshore for all your Ford service needs.
Questions? Any of our knowledgeable service and sales people can help.
Call our Downtown location at 250-384-1144 or our Westshore location at 250-478-6171 today!
First Last
Title
555-555-5555
SHARE YOUR EXPERIENCE

*Required Fields